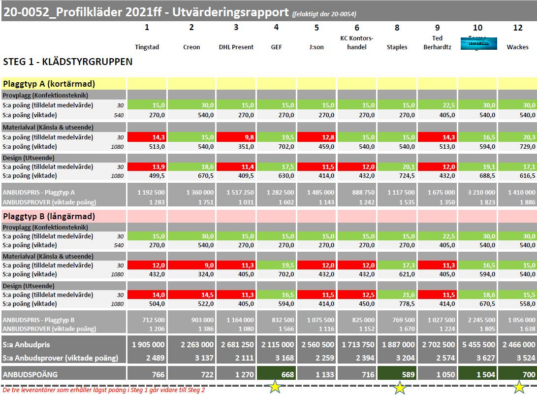 Together with our freinds at #Termo we attended a 10.000 pcs tender for Liseberg, the finest amusement park in #Sweden. We took our brand new #cottonfree #woodpulp #oceanwaste line out for a spin.
Although we did not win, and congrats are in order to @gepcommunication and @PetrusJoona and his team, we are still somewhat happy.
Eight of the 12 competitors were disqualified after scoring low on material and design (red blocks).
Of the four remaining companies we had the highest total score from the Liseberg internal uniform group. These people are specialists on uniforms and their vision for sustainable new techniques and materials is unquestionable.
So why we did not win?
Using local factories and sustainable materials #Tencel and #oceanwaste in thread and trims is not cheap. We don't apologize for that.
We welcome more tenders where the purchaser focus on #sustainability and product quality. The harder customers challenge producers to shift to modern materials and local production, the more the price level will even out, pushing the entire #textileindustry in a more sustainable direction.
If you feel inspired to learn more about garments made of #woodpulp and #oceanwaste or have other questions, please contact us.